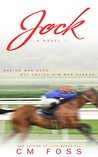 Jock by C.M. Foss
My rating: 5 of 5 stars
I don't know if I can find the accurate words in which to describe how much I loved Jock by CM Foss. Before starting this book, I knew nothing about horse racing, besides the basics, or Jockeys for that matter. Now I'm completely intrigued not only by the story but by the sport as well.
I loved how this story starts with Tessa as a newborn and Jace a little older. We literally get to see their friendship progress over the years and see where it begins to turn into more. It isn't one of those insta love stories but one where it happens over a longer period of time which makes it more believable.
Tessa is starting out in her career as a Jockey. Her mind is completely on her job and she doesn't need the distractions. I was so intrigued on what it takes to be in this sport. It is most definitely not for the weak.
Jace has grown up being Tessa's protector. He's the guy that has always watched out for her and in the blink of an eye she grew up to be the woman he can't get off his brain. She doesn't want the distraction that Jace brings into her life and he won't give up until he has her.
The chemistry these two have is palpable. You see this from the very beginning. As they get older it only gets better. The one thing that I absolutely loved is that they didn't need each other to be complete. They are two equals that don't need to rely on each other but being together they make this beautiful package.
This definitely won't be the last time I read a CM Foss book. She captured my heart with this book and she'll most definitely capture it again. I can't wait to read her next book about Tessa's brother.
Click to Buy NOW