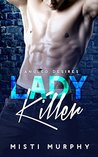 Lady Killer by Misti Murphy
My rating: 5 of 5 stars
"You're thinking about my cock, aren't you? Wondering what exactly I'm packing." She gasps, but she doesn't let go of my shirt. "Something nasty, no doubt. After all you're the one who said it's out of commission." I chuckle. "I'm willing to make an exception for you." "And every other girl." "Just you, pretty girl."
Lady Killer is the second book to a series called Tangled Desires by Misti Murphy. This book is about two people who has a complicated situation in their lives that either's have them on the run or searching for someone. They end up meeting one another, and their lives get even more complicated.
Enter Gemma, Gemma is part-time veterinarian who is on the run for her life from her ex-boyfriend trying to kill her. Running from place to place she is force to change her name so that she stays under the radar. Signing up to a gym to release some stress, she didn't expect to run into is Tom Hadley. Feeling more than attracted to him, she knows she cannot let herself fall for his charms, or let him get involved in her mess of a life.
"I must have zoned out completely. He's staring at me like he's been waiting ages for an answer. "I really don't think it's a good idea. Besides, I have somewhere to be." "Are you driving?" "N-no." Why won't he take no for an answer? "Well, we'll walk you then." Apparently, I'm going to have to deal with Tom Hadley and his dog a little while longer," Who doesn't like a determined man especially one hot and refuses to take no for an answer.
Well ladies and gent. I give you Tom Hadley.
Tom Hadley, known as the Lady Killer, and the Harbinger is an ex-boxer, who lost his career because of a hit and run. But that doesn't stop him from being successful. Now back at his hometown he owns his own gym, and still gets ladies. But the one woman he wants is putting up a hell of a fight. With other complications already in his life, should he really be adding hers as well?
This book is amazing, when you first read start to read it, it grabs your attention right away. The author tends to switch between the two characters, so that you're able to see from both of their view points. There are some twists and turns in the book that will surprise you, and make you laugh. I enjoyed the book and will be searching for the first book as well as the next one after this one. I advise you that when you read this book be somewhere, that no one will bother you. You won't want to stop reading once you begin.
Click to Buy NOW