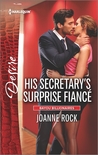 His Secretary's Surprise Fiancé by Joanne Rock
My rating: 3 of 5 stars
His Secretary's Surprise Fiancé is the first book I have read from Joanne Rock. This is technically the 2nd book in the series but it's ok if you don't read the first one because this book will recap it for you. Adelaide and Dempsey have been friends since they were children. He grew up poor and played football until his father came (who is wealthy) and took him and his mother to live with him. He then was able to grow up to be an outstanding businessman as well as a football coach.
Throughout Dempsey's childhood, growing up away from Adelaide, he still thought about her constantly and missed her. So as they grew up and he found her as a struggling artist living in some of the worst parts of New Orleans, he decided to help her out and give her a job as his assistant until she has her feet on the ground. As the years pass, Adelaide is finally able to become the artist she wants. She's no longer struggling and is ready to leave her job as Dempsey's assistant as her art business is flourishing. Dempsey is not happy with this and he does something outrageous to corner her so he can keep her by his side because he isn't ready to let her go.
As the story goes on, Dempsey doesn't really see or understand the problems he's causing but they're both coming to terms with their feelings and trying to figure out if there is a future with them being a couple or not.
I'm a big fan of the lifelong friends turning into lover's stories. Adelaide and Dempsey were perfect for each other. It felt sometimes that these characters were still strangers because they missed years together when growing up. Overall it was a good read. The story definitely had unique parts to it that doesn't compare to other books which definitely makes you want to read on. This won't be the last book I read from miss Rock. I'm intrigued at what the other Bayou Billionaire books entail.
Click to Buy NOW