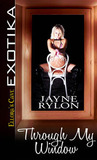 Through My Window by Jayne Rylon
My rating: 5 of 5 stars
Through My Window starts the four-book Red Light Series by Jayne Rylon off with a red hot bang. Taking place inside the world of Amsterdam's infamous Red Light District, the audience follows along a night's work for the sex worker known only as 'Star.' Star says it best when her first client of the night -a first-timer whose excitement fuels her own- asks:
"How can I have sex with a woman if I don't know her real name?"
It's a fascinating question to come from the mouth of a man buying the services of a prostitute. Clearly Jonah stands out from the crowd of usual suspects for Star. Her answer to him is as succinct as it is accurate as she replies:
"It's not my name you're f–king."
Star cares deeply for every encounter of the night starting with Jonah the First Timer, moving on to Rick the Regular, and then, finally, to a couple whose names are not important since their story is about their journey rather than their names the same as Star's own. It is ironic to me Star thinks:
"—I realize they never asked my name. And that, had they wondered, I would have told them."
Sex workers are often depicted as women or men who come from desperate situations; it was a delight to read a piece where the protagonist loves her job, craves her clients, and luxuriates in her power as a woman of the night. Star focuses on drawing as much pleasure out of every encounter as she can for herself as well as her clients. Her vantage point from her window in the Red Light District is expressed beautifully through the lush descriptions offered by Jayne Rylon; one can almost feel a part of the street crowd in Amsterdam through the eyes of Star alone.
Reading 'Through My Window' was a step into another world alongside the author and it's easy to give it five stars for packing a big bang into several short stories. This makes me desperate to learn more about Star's life, spend another night with her, see how she fares. I would highly recommend anyone to take a chance on this first installment yet caution them to be prepared to buy the rest of the series as I know I will be.