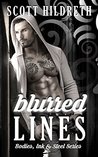 Blurred Lines by Scott Hildreth
My rating: 4 of 5 stars
Click to Buy Blurred Lines NOW
Blurred Lines by Scott Hildreth, was a bit difficult to get into but once you get sucked in… let's just say you buckle up and hold your breath through the ride. Because this is one of those stories that make you have all these feelings at the same time. Awesome read!
At the age of seventeen she meets Stephen and starts a relationship with him. She then turns into his wife and punching bag. In the beginning she thinks he is only being protective of her. He also makes her believe that her immaturity is what makes him act out violently towards her. But with time she realizes that that isn't the case. After four years of abuse she decides to leave him she takes his money. She believes she in title to it. He doesn't fight her for the money or fights for her to go back to him.
Blake is the owner of Blurred Lines and an ex-cop. As an orphaned child he is violated by the people he trusted. Which he believes is what made him develop addictions, which are too many to count. After experiencing the worst black out of his life he decides to quit drinking but his addiction to sex is hard to confront. Until he meets Riley a twenty-one year old women who wants a tattoo. But what he notices is her perfect body and those thick black glasses she wears. He doesn't know much about her but he is willing to work towards her being comfortable with him and lets him in. She makes something in him tick and he likes it. He wants to sleep with her but not in the way he is use to. He wants a relationship and then sex. But what he wants the most is to be honest with her and tell her he is actually a virgin.
After spending time together they find out that they are bonded by something stronger than their attraction for each other. They also decide that it is time for Blake to lose his virginity and when that moment happens its nothing but beautiful. They make new friends and reconnect with old ones. Blake finally deals with the demons of his past. That helps him to move forward in life with Riley and also with himself. Riley and Blake find comfort and love with Friends who turn into family.
Click to Buy Blurred Lines